PUBLICATION
Articles
knowledge Management
Innovative Institutional Approaches for Agricultural Knowledge System Management in India
V.Venkatasubramanian and P.Mahalakshmi
Knowledge plays an important role in increasing the agricultural production and productivity through improving farmers' ability to use human, natural and technical resources in a judicial way and making good decisions about their farming. Geographic dispersion and inherent capacity of the individual farmers make it difficult to access, aggregate and analyse available knowledge for deriving benefit out of it. In a vast country like India with varied agro climatic zones and farming as a source of livelihood for much more than 60 per cent of the population, availability and accessibility of relevant agricultural knowledge, technology and innovation play an important role in the technology generation, application and transfer system. There is a vast scope for managing agricultural knowledge through public, private and non-govt organisations and in India a multi- pronged institutional arrangement is involved in the Agricultural Knowledge System (AKS) management.
National Agricultural Research System (NARS) comprises about a vast network of research institutes, bureaux, state and central agricultural universities in the country. At national level Indian Council of Agricultural Research (ICAR) has established a Directorate of Knowledge Management (DKMA) with a mandate to ensure Agricultural Knowledge access for all. Population growth increasing demand from changing consumption pattern, dwindling land and water resources for agriculture, higher energy costs, and the huge uncertainties regarding the effects of climate change present scientists and policy makers with additional challenges.
Addressing these challenges successfully heavily depends on the technological and knowledge empowerment of the socially and economically under privileged sections of the society. If we look at the history, technology has been an important factor in the rich-poor divide. If technology has enlarged social and gender divides in the past, the challenge now is to enlist technology as an important instrument for achieving social and gender equity. If agricultural technologies and innovations are to serve this purpose, access to it must be based on the principle of social and gender inclusions.
The Food security with home grown food is not only important for strengthening rural livelihood security, but it is also essential for both internal security and external sovereignty. Revolutions in agriculture were mostly the fruitful outcome of public research supported by government and ICAR through its chain of research institutes and innovative approaches has strengthened the Indian Agriculture system with inclusive innovations for a sustained growth all these days. The sustainability of Indian agriculture need to be measured in ecological, economic and equity terms and ICAR plays an important role which helped the country in achieving self-sufficiency in food production and also making India as a major player in the international food production system. This paper discusses briefly about the innovative institutional arrangements operational in India with respect to AKS management. 
National Knowledge Commission
The National Knowledge Commission is a high-level advisory body to the Prime Minister of India, with the objective of transforming India into a knowledge society. In its endeavour to transform the knowledge landscape of the country, the National Knowledge Commission (www.knowledgecommission.gov.in) has submitted around 300 recommendations on 27 focus areas during its three and a half year term. The National Knowledge Commission (NKC) was constituted as an advisory body to the Prime Minister to help restructure knowledge related institutions and infrastructure to meet the challenges of the 21st Century with a focus on meeting the aspirations of the 550 million young in an increasingly global knowledge society. NKC has recommended concrete steps to modernize and stimulate agricultural research institutions, coordinate research and make research support more flexible.
NKS observed that agriculture provides the principal means of livelihood for over 60% of India's population. Despite a steady decline in its share of the GDP, it remains the largest economic sector in the country. Low and volatile growth rates and the recent escalation of agrarian crisis in several parts of the Indian countryside are a threat not only to national food security, but also to the economic well-being of the nation as a whole.NKC believes that appropriate application of knowledge in agriculture is essential to boost the agrarian economy and give the Indian farmer a competitive edge in the global market. However, despite the diverse mix of actors engaged in knowledge generation and application in agriculture, its realization and utilisation at the ground level remains poor. The scope of research and extension must be expanded beyond technology transfer to encompass a wide range of services relating to knowledge creation, exchange, access and use.
NKC has therefore, stressed on improving the organisation of agricultural research, directing more research to neglected areas, providing more effective incentives for researchers and reforming the curricula in agricultural universities. To improve the scope and efficiency of extension, NKC has stressed making knowledge applications in agriculture community-driven and farmer-led and shifting the focus to provide an integrated range of services.
NKC has also recommended restructuring the Agricultural Technology Management Agency (ATMA) to make it more decentralised, participatory and locally responsive, and enhancing the role of private players in agricultural technology application and delivery system.
The following are the Terms of Reference and objectives of the National Knowledge Commission (NKC):
Build excellence in the educational system to meet the knowledge challenges of the 21st century and increase India's competitive advantage in fields of knowledge.
Promote creation of knowledge in S&T laboratories.
Improve the management of institutions engaged in intellectual property rights.
Promote knowledge applications in agriculture and industry.
Promote the use of knowledge capabilities in making government an effective, transparent and accountable service provider to the citizen and promote widespread sharing of knowledge to maximize public benefit.
Objectives
The overarching aim of the National Knowledge Commission is to enable the development of a vibrant knowledge based society. This entails both a radical improvement in existing systems of knowledge, and creating avenues for generating new forms of knowledge.
Greater participation and more equitable access to knowledge across all sections of society are of vital importance in achieving these goals.
In view of the above, the NKC seeks to develop appropriate institutional frameworks to:
Strengthen the education system, promote domestic research and innovation, and facilitate knowledge application in sectors like health, agriculture, and industry.
Leverage information and communication technologies to enhance governance and improve connectivity.
Devise mechanisms for exchange and interaction between knowledge systems in the global arena.
National Agricultural Research and Education System (NARS)
National Agricultural Research and Education System (NARS) in India constitutes a vast network of research institutes (49), project Directorates (25), National Research Centres (17), Bureaux (6), All India Co-ordinated Research and Net-work projects (78), Agricultural Technology Information Centres (44), 591 Krishi Vigyan Kendras (Farm Science Centres) etc., under Indian Council of Agricultural Research (ICAR) and there are about 55 State Agricultural universities and one Central Agricultural University currently functioning in the country. NARS is one of the largest in the world with respect to human resource engagement and infrastructure and ICAR is the apex body of the National Agricultural Research System. Administratively, ICAR is an autonomous organisation under the Department of Agriculture, Government of India. ICAR is involved in coordinating, guiding and managing research, education, and extension in agriculture, including horticulture, fisheries, and animal sciences in the country.
The research programmes under the umbrella of the ICAR are designed to ensure food, nutritional and livelihood security for all. In the past, it played an enabling role in ushering green revolution and subsequently, enabled the country to increase production of food grains by four fold, horticultural crops by six fold, fish by nine fold (marine 5 fold and inland 17 fold),milk by six fold, eggs by 27 fold since 1950-51;thus making a visible impact on the national food and nutritional security. It has also played a major role in promoting excellence in higher agricultural education. It is engaged in cutting-edge technology development in several agriculture and allied sectors. The Agriculture knowledge management frame work in India is given at
AKS Management: An Overview
(i) At National Level: Directorate of Knowledge Management in Agriculture (DKMA), Indian Agriculture Statistical Research Institute and Intellectual Property Right and Technology Management unit are the important institutional arrangements at national level to deal with the agricultural knowledge management in the country.
As a commitment to deliver cost-effective and production-oriented technologies for the welfare of farming community, ICAR has adopted ICT based information dissemination system. There are considerable resources of knowledge and information in the ICAR system that can be harnessed for realizing full potential of technological interventions developed so far. Several ICT-driven information delivery mechanisms have been developed for quick, effectual and cost-effective delivery of messages.
The e-connectivity of ICAR institutes has been strengthened and state-of-art data centre has been established to cater the ICT services and provide connectivity to various stakeholders. 192 Krishi Vigyan Kendras (Farm Research Centres) have been provided e-linkage for establishing an interactive interface between farmers and scientists. The research journals have been made available in open -access mode for the benefit of students, researchers, farmers and various stakeholders belonging to national and global communities. The ICAR research journals are made available in the inter- net with a provision of online submission of manuscript, review and downloading of articles. Web based knowledge dissemination, weather based agro-advisory and news updates are some of the important features of the user-friendly website of ICAR. Use of database, expert system, decision support system and web based dissemination of knowledge, inter and intranet services, i-telephony and video conferencing are some of the major initiatives by ICAR for knowledge sharing and AKS management in the country.
IT Based Interventions for Sharing of Knowledge:
The ICAR website (www.icar.org.in): Developed by using an open source content management system called DRUPAL, the website is a unique platform for sharing and dissemination of information to a wide range of users and stakeholders in agriculture sector. The News section is updated daily with inputs from the centres of National Agricultural Research System across the country. Interesting Success Stories of Indian farmers are presented weekly on the homepage of website to inspire and motivate farming community. The Weather Based Agro-Advisory developed by subject matter experts is also updated weekly for the direct use of farmers. The website provides links to international agricultural organizations and to ICAR library and other libraries of interest. A useful link connects the visitors to the global agricultural news released from various international agencies. More than 2.05,436 visits are recorded per month from 157 countries.
The ICAR research journals (The Indian Journal of Agricultural Sciences and The Indian Journal of Animal Sciences) are available in open-access mode and have been downloaded in 157 countries from a knowledge portal developed and hosted by the Directorate of Knowledge Management in Agriculture (DKMA) of the Council. The online research journals provide facilities like registration for reviewer, author, reader and manuscript submission for publishing. The status of articles submitted may also be viewed (http://epubs.icar.org.in). A host of other useful publications including newsletters can also be viewed on the website. The Hindi (national language) version of the website is also available with regular updates. Around one lakh farmers/ visitors are making use of updated information on website every month. The website has proven its potential for sharing and delivering knowledge at national and global level.
National Agricultural Innovation Project (NAIP) Initiatives:
Under NAIP 10 crop knowledge models have been developed along with Portal based decision support services. In addition, advanced Q&A forum designed for content management. About 2.2 million SMS texts transacted with over 26,000 farmers. It was adjudged as best ICT- enabled agri project in 2010. A rice knowledge management portal and re-usable learning objects (RLOs) in ODL system were developed under this project. Nine communication centres set up to enhance public awareness of ICAR.
(ii) At Zonal Level:
ICAR has established the Zonal Technology Management and Business Planning units to ensure a strong Intellectual Property Management system. The Zonal Technology Management &Business Planning units (ZTM-BPD) are one stop shop for entrepreneurs who can receive pro-active, value added support in terms of technical consultancy, access to critical tools such as entrepreneur ready technologies, vast infrastructure and other resources that may otherwise be unaffordable, inaccessible or un known. The units will provide links to industries; business support services to enhance and develop business; upgrade skills and techniques; technological advice and assistance with intellectual property protection; initial test marketing and also provide access to potential investors and strategic partners.
The services of the unit can be availed by start-up companies as well as established companies looking for product diversification or test new technologies or innovations. The facilities can be used to test out processes and new products. The ZTM-BPD unit will identify promising technologies through market potential analysis and give feedback to the institutes for appropriate scaling–up, change of product-mix, and possible refinement of selected technologies based on entrepreneur and end-user demands. Business project reports are prepared with details of the technology, infrastructure, marketability, and financial aspects in close association with the technology creators. 
KIRAN: Top
Knowledge - Innovation Repository in Agriculture for North- East is an umbrella arrangement to harness the power of scientific knowledge and technology innovations for strengthening the food production system in North- Eastern region through partnership and convergence among stake holders. KIRAN aims to create a knowledge and technology repository for NE region. It acts as an information, knowledge and technology gateway and also provides a platform for interface among stakeholders in agricultural development. KIRAN also helps to foster linkage among partners and collaboration with State and regional organizations. It acts as a catalyst to strengthen the existing institutional capacity through convergence and networking. This cell provides technology and development consultancy along with the details of technology dynamics and kinetics. KIRAN helps to programme a sustainable agriculture development in the region and also provide support for strategy formulation for research and extension.
(iii) At State level:
In the state level, ICAR has established Agricultural Technology information Centres (ATICs) to provide direct access to the institutional resources to the farmers and stake holders. ATIC is a single window support system linking various units of a research institution with intermediary users and end users (farmers) in decision making and problem solving exercise. It has got an inbuilt mechanism for providing feedback to the scientists and research managers.
There are 55 State Agricultural Universities are presently functioning in the country imparting agricultural education and carrying out research and extension activities to meet the local needs of the state. The agricultural universities through their zonal agricultural research stations, and district level university research, training and extension centres cater the location specific needs of the farmers and other stake holders like agri - entrepreneurs. Wider knowledge dissemination is carried out through their knowledge portals, community radio stations and mass media channels. For example, Tamil Nadu Agricultural University (TNAU) has taken up Information and Communication Technology for its transfer of technology and it is attempting to develop a new mode of link between the extension officials and the farmers. The knowledge management models functioning at TNAU is presented here under as a case study.
(a) e-Agriculture Service for Accelerating Agricultural Development and Living Standards of Farmers through TNAUAGRITECH Portal:
Since integrated information on agriculture knowledge is not available to the farmers under National Agricultural Development Project (NADP), TNAU designed an integrated knowledge portal involving all the stakeholders in the farming profession. Apart from the standard search engine feature, web portals offer other services such as e-mail, news, stock prices, information and entertainment.
Content in TNAU AGRITECH Portal:
The TNAU AGRITECH Portal is being developed by scouting information from various trusted sources like State Agricultural Universities, State Departments of Agriculture, Horticulture, Engineering, Animal Husbandry and other line departments. Information about private input dealers, marketing, export and import, Krishi Vigyan Kendras, indigenous technologies, government schemes, food science and technologies, Self Help Groups, Non Government Organizations, entrepreneurs, agro industries etc were collected and validated with the help of subject matter specialists.The content is converted into knowledge pages and the special feature of the portal is that it is a bilingual portal designed in English and Tamil.
The core areas in the portal are Agriculture, Horticulture, Agricultural Engineering, Sericulture, Forestry, Fisheries, Animal Husbandry and Marketing. The other issues covered are crop Production, protection, organic farming, sustainable and indigenous farming, soil and water management, government schemes, banking, insurance, self help group and Non-Government Organizations, post-harvest technologies, daily events (Market Information, News Paper Clippings, Radio and TV programmes, water level in dams and streamed Audio from TNAU Community Radio), Patents, Environment and Pollution, Inputs Source, etc.
The major areas such as weather, soil, water, nutrition, enterprises, and biotechnology and bio fuels are also covered. Some of the specialized information on technologies such as System of Rice Intensification (SRI), Precision Farming Systems, Good Agricultural Practices, Good Laboratory Practices and Good Manufacturing Practices, availability of input sources, minimal support prices, Agricultural Action Plan for the district and linkages with different service providing agencies were also included in the content.
The unique feature of PORTAL is "Message Board and Ask your Expert feature" with multimedia based dynamic network including audio and video streaming. Message board links with users to add any message they would like to share through this platform reaching to the intended audience. At the same time the user may also forward suggestions to improve portal services and corrective measures as a feed back. In the case of Ask Your Expert, it provides link with Experts in the field of agriculture and allied sectors to ensure corrective measures and implementable action plans for the problems posed by the farmer with in a stipulated time of 24 hours. Both Message Board and Ask Your Expert are linked through live video conferencing from HUB centre or from the clientele or users node.
Further, the portal information focuses on "more visuals / images with dynamics than less text and routine kind of nature". More focus has been emphasized on science behind the facts, distinctive and holistic information to educate the field extension officials, farmers and stakeholders.
(b) Dynamic Market Information Support for Agri-Horti Produces throughwww.tnau.ac.in /www. indg.in portal: Linking the Farmers with Market:
India produces 150 million tonnes of fruits and vegetables. It is estimated that about 50% of the agricultural produce are available as marketable surplus. More than 72 per cent of the vegetables and fruits are wasted in the absence of proper retailing. In order to reduce this wastage and also develop a direct link between the farmers and the markets, the State Agricultural Management & Extension Training Institute (SAMETI) & Directorate of Extension Education, Tamil Nadu Agricultural University in collaboration with C-DAC (Centre for Development of Advanced Computing), Hyderabad is operating this project.
Market Coverage and Information Reach:
In Dynamic Market Information (DMI), the market rates of perishable commodities (both whole sale and retail are collected and uploaded in the website (www.tnau.ac.in and www.indg.in)on daily basis. Presently, 13 markets are covered. Project Analysts are placed in the different marketing zones. They collect the market data and upload in the portal. As on date, 152 commodities have been added to the DMI list. The rates are ready to be viewed by 13.00 hrs daily. The information is given in Tamil and English.
The additional features in the website include market profiles with photographs, traders profile and addresses of traders, traders business in the market, farmers association details, best practices adopted by other successful farmers, Minimum Support Price of major commodities, regulated Markets in Tamil Nadu and KrishiVigyanKendras(Farm Science Centres) in Tamil Nadu. The site also provides space to access previous data for comparison. As a value added service the price details of selected commodities are also sent to the farmers through mobile.
The holistic market related information namely trends, quality preferences, daily market prices, demand and supply analysis for different produces, composition of suppliers, packaging and transport mode for different produces are analyzed and informed to the producers, buyers and consumers through online portal (www.tnau.ac.in and www.indg.in)
Periodical publishing of market support information with regional specific inferences for different produces benefits different stakeholders. Often farmers are exploited by the middlemen and unable to get actual benefit for their end produces. This initiative facilitates farmers and field extension officials to understand the daily prices of important markets in south India. Ultimately, this would like to help the growers to mobilize the bulk commodities to get the real market prices. If the farmers are not able to mobilize their produce individually they can organize into groups and take their commodities to the market that gives them better economic returns.
(c) m-Velanmai ( m-agriculture) Agro Advisory Services for Improving the Livelihood status of the Farming Community of Tamil Nadu:
m-velanmai is an innovative mobile based advisory service initiated on public Private partnership by Tamil Nadu Agricultural University. Farmers can receive relevant information and advice on various topics in farming on his mobile phone. It also enables farmers to send queries specific to their land and crop to receive personalized replies from agricultural experts, on their phones.
(d) e-Velanmai (e-agriculture):
It is an ICT based demand driven participatory extension system to provide timely agro advisory services by TNAU scientists to the registered farmers using ICT tools (Internet, Computer, Digital Camera, Mobile phone etc.) on need and/or regular basis. It includes, farmers enrolled for the service, expert team of scientists from TNAU, field coordinators to develop the capacity of farmers, ICT tools to link farmers and experts, information about the agricultural problems (data) collected from farmers for advice. The other components include the technical message delivered by the experts to solve agricultural problems faced by the farmers and follow-up actions on the advices adopted by the farmers. Farmers pay a membership fee based on the farm size owned by them to avail the extension services under e-Velanmai as a mark of their participation in the system of technology transfer. Scientists attend the farmers queries based on their call (demand) or need and hence it is demand driven for technical advice or scientific farming.
In the similar way, different state agricultural universities in the country have their own knowledge management models according to their local needs and resources.
(iv) At District Level:
As per the policy of Govt of India each rural district in the country will be provided with a Krishi Vigyan Kendra (Farm Science Centre) and there are 591 Krishi Vigyan Kendras (KVKs) have been established in the country so far against the target set 667 KVKs at the end of 12th plan(i.e. By march, 2012). KVK is an innovative grass root level institutions established to undertake technology application through technology assessment, refinement and demonstration of proven technologies under different micro farming situations in a district.
It is a farm based model with a focus on farming system and vocational training. It serves as a knowledge and resource centre in the district. As an initial step 192 KVKs and eight Zonal Project Directorates in the country have been provided with e connectivity facilities and the staff were provided with adequate knowledge management training for the development and management of the contents.
KVK e-Linkage Project:
ICAR as part of its mega ICT driven knowledge management and technology application strategy has envisioned for providinge-linkage to its networks of KVKs and Zonal Project Directorates (ZPDs) during XI five year plan (2007-2012). The linkage facilities helped to achieve an enabling environment to KVKs for developing close fruitful partnership and collaborations between subject matter specialists of KVKs and also research scientists, extension personnel and farmers for sharing and upscaling of appropriate agricultural knowledge and technologies, best practices and innovation among them and other stake holders. Initially, this facility is being created in 192 KVKs and all eight ZPDs. In the course of time this linkage will be expanded to all the KVKs in the country. The major objectives and rationale behind this initiative is to improve KVKs connectivity with;
technology generating institutes such as SAUs, ICAR institutes and other related national and global centres of excellence
farmers, grass root level organisations like co-operatives, Self- help groups and commodity interest groups
technology delivery system and public and private extension service providers at district level
Under this mega initiative a state of art net-work operation centre/hub established at ICAR HQs New Delhi is connected with satellite earth station antenna with a lease of 18 MHz transponder space on INSAT-3C satellite (Fig.1). About 1400 official of KVKs and ZPDs were trained in the knowledge management. It helped the KVKs to develop content development and access to global agriculture knowledge.
KVKs developed data base on agriculture, weather advisory services, technology inventories and computer generated agro-advisory alerts to farmers in their mobile. For example: aAqua – A Bilingual Portal, a virtual university model was developed jointly by KVK, Pune and IIT, Mumbai. The KVK is responsible for content development while IIT is associated in software development and maintenance of the site. Broad based digital content on agro technologies for various crops grown in the state was made. Expert and decision support systems, and query based redressal in local language and keyword browsing are in built facilities in the portal.
The KVKs are also providing mobile SMS services called agro-advisory services to the farmers. Similarly, KVK Ahmed Nagar, Maharastra successfully demonstrated the use of ICT in AKS and disseminating improved agricultural technologies. Vasundhara, software for soil and water test based nutrient recommendations developed by KVK-Ahmed Nagar pioneered the pest and disease forewarning through its SMS based alert system to the registered users. A number of technology CDs has been developed on crops, livestock and other agri-enterprises for use by the farmers.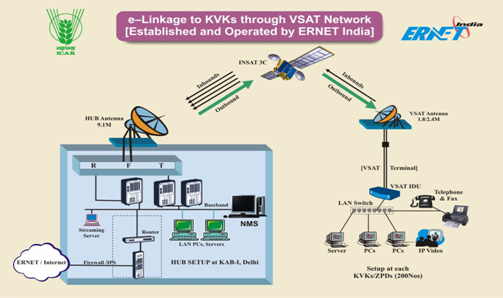 Fig.1 AKS in Krishi Vigyan Kendras (KVKs) through e- connectivity
ATMA: Yet another district level organisation involved in the AKS management is Agricultural Technology Management Agency (ATMA). Presently, except four districts in the country all districts are covered under ATMA. ATMA is a society of stake holders in agriculture for sustainable agricultural development in the district. It is a focal point for integrated research and extension activities endowed with the responsibility of all technology dissemination activities at the district level. Govt of India launched Kissan call centres to leverage the extensive telecom network in the country to deliver extension services to the farmers. The purpose of these call centres is to respond to queries and issues raised by farmers instantly in the local language on a nationwide toll free number 1800180 1551. The organisational structure of ATMA is given in Fig. 2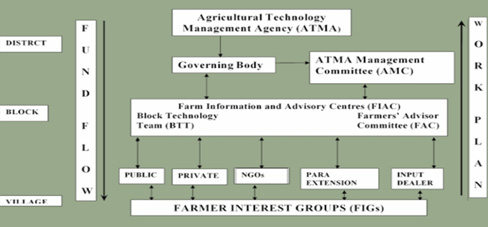 Fig.2 Organisational structure of ATMA
(v) AKS Management at Grass root level: India has rich experience in implementing large number of ICT based knowledge management projects attempting to bridge the digital divide and there by using them in evolving a knowledge and innovation led society for an inclusive rural development. ICT based knowledge management projects provided a range of services in the villages and they proved that technology and innovations could make a difference in the quality of rural life.
Farmers Dairy Co-operatives play an important role in AKS at grass root level/village level, The milk collection centre at villages are provided with automatic milk collection facilities. These centres are provided with DISK – Dairy Information & Services Kiosks which provides database, Internet connectivity to dairy Co-operative societies. Farmer are provided with individual ID code/ smart card which helps them to access the DISK database which contains their details about their animals such as breed and history of diseases, details about the artificial insemination performed in their cattle and pregnancy.Further, data on milk production by individual farmers, forecasting of milk collection and feed back to farmers with respect to the technology and package of practices for their dairy cattle management.
Research studies on assessment of ICT on AKS revealed that farmers not only benefitted with easy access to relevant knowledge but also helped them to save costs of cultivation and could able to realise better market prices to their produce. By using soya e- choupal of ITC, farmers could save about 68 per cent of their transaction costs due to the information led decision making on when and where to sell their soya bean. The ICT based agricultural knowledge delivery system at grass root level equally helped the farmers and buyers of their produce. A brief about important grass root level knowledge management projects that are under operation in the country is given in
Table:1Brief on important grass root level knowledge management Projects

S.No

Project name

Promoting agencies

No. of kiosks

Information and services provided

Technology used at

Central network

Rural kiosk

1.

Akshaya

Local bodies of Malapuram and Thrissur districts, Kerala state

565

e-Governance, net based communications, e-krishi, agri-marketing, general web applications

Web based; software for local content & transaction

Dial-up and wireless WiFi access

2.

Gyandoot

Dist. Admn, Dhar, MP

40

Agriculture, commodity- auction, education, training, banking, government related and other services

Web based; software for land record and transaction; Servers placed at District office with CorDect WLL Tech

Dial-up & some kiosks connected by CorDECT WLL; solar powered batteries

3.

Bhommi

Govt. of Karnataka

800

E-Governance, 20 million land record of 6.7 million farmers in Karnataka, weather, package of practices

Web based; Public key infrastructure enabled access

Dial-up; generator for backup; Simputers in districts for field use

4.

WWV

Warna Wired Village

70

Agriculture, news, market prices, sugar coop software, web browsing etc

Web based; Wireless WLL tower, software for sugar co-operative functions

Dial-up &CorDECT WLL

5.

Choupal

ITC-Private

6500

Agriculture, agri-inputs, government schemes, agri-news, market prices, weather and general FAQS. Business tie up with more than 10 input suppliers

Web based; software for transaction; Central content development

Dial-up VSAT and wireless connectivity; solar power and back up batteries.

6.

Drishtee

Drishtee Dot Corn Ltd. 90

90

Rural marketing, Agri-marketing, training, general web applications.
About 17 private companies for specific business.

Web-based; Drishtee portal with software for transactions; Central content development in local languages;

Dial-up with BSNL and airtel

7.

n-logue

n-logue communications

3500

Agriculture, education, computer training, jobs, health, government schemes and procedures, news and market prices.

Web-based; weather monitoring system; software for email, video conferencing & transactions

CorDECT WLL connectivity from access center with 64 kbps connectivity to kiosks in 25 km range.

8.

Tarahaat

Development Alternatives

10

E-governance, agriculture, market prices, training and IP services

Client-server architecture with customized software; Services from IGNOU, AIIMS, Agriwatch

Dial-up & VSAT

9.

IVR

MSSRF

80

Knowledge empowerment, internet access, e-mail, training, citizen centric services

Client-server architecture with local nodes; Central VSAT as hub; Wireless 802d, 11b & 2-way VHF radio

Radio link to hub; PA system for broadcasting, solar panels for power

10.

Ashwini

Byrraju Foundation

32

v-agri and v-aqua for farmers, agri-marketing, tele-medicine, education, computer training and host of web services

Web based; WiFI tower on 802.11 b/g technology; tele-ECG machines; Teleservice through IBM Voicegen; Gram IT a rural BPO; trade link up to safal exchange

Wireless access; tele conferencing;
Features of Successful ICT based AKS management Projects
The 'Bhoomi' project (digitalized land records) in Karnataka today serves as an excellent example of governance in its ideal form, transparent and accountable.
'e-Shringula', a one-stop, Web-enabled portal for information and services relating to the government-citizen interface creating an "e-Shringula" ("electronic chain") of information and e-governance.
'Drishtee' provides technical expertise and management consultancy to build the IT infrastructure and the human capacity to link service providers (government department and private firms) with rural citizens.
'Info-Village' of Puducherry by MSSRF developed community ownership and collective action with a "pro-poor", "pro-nature" and "pro-women" approach to development.
In 'Gyan Ganga' project, of Gujarat state a comprehensive education, support and services including agriculture and animal husbandry were provided.
'e-Choupal' is a huge private sector investment by ITC India ltd, which revolutionized agricultural commodity marketing in India procuring Soya, Coffee, and Prawns at the doorsteps of the villagers and provides all real time data on crop prices, products and services and facilitate supply of high quality farm inputs in partnership mode.
Info knowledge Village at Puducherry, Warna Wired Village project in Maharashtra, Krishi Vigyan Kendras of ICAR provide quality online, content management including packages of practices, locally relevant technologies and recommendations, government schemes, FAQ etc. in local languages.
Women empowerment through SEWA project in Gujarat, mobile classrooms through IT buses in rural Pune, Project 'Shiksha' for computer literacy, Action Aid at Bolangir, Orissa, 'Akshaya' at Malappuram, Kerala, and EDUSAT address the issue of capacity building and empowerment of farmers, farm women, rural artisans and also large number of extension personnel.
'SATCOM', Madhya Pradesh, Teja TV in Andhra Pradesh and E-TV telecasted programmes on location specific agricultural technologies integrated and Interactive live question answer sessions in local languages resulting in high percentage of farmer-viewers.
Scalability of ICT based knowledge management projects
The scalability of ICT projects in India depends on the following factors such as:
The value addition in the services for farmers
Appropriate management model
Government role through supportive policy environment
Institutionalizing the public-private-community partnership model at the grass root level
Appropriate and affordable technologies that can be adopted by the end users, and Increase in functional literacy level of farmers
The most important role of AKS management is fostering a knowledge intensive sustainable livelihood security system in rural areas, since it enable us to reach the unreached and include the excluded information, knowledge and skill empowerment. The issues of importance are; Access, Content, Capacity Building, and Establishment of Rural Knowledge Centres (RKCs). Access to information and knowledge is impeded for much of our population due to poverty, illiteracy and isolation. Linkages among professional partners is essential to reach those who are unreached by ICT and especially those who are under the greatest risk of being left out of the knowledge societies (rural population, urban poor, illiterate and marginalized).
Promotion of free exchange of knowledge has never been more relevant and therefore promoting diversity of content in the media and information networks is needed. ICTs increase access to information and knowledge from a rich variety of sources. As information streams become more globalised, AKS management need to keep in mind cultural and linguistic diversity and genuine pluralism through local content production. Therefore, it is a must to ensure a strong public domain of information, readily accessible to all.
Alliances are crucial for amplifying the scope and scale of knowledge centres. Research and extension linkages help to improve the synergy between scientists and farmers. Partnership improves the quality and relevance of information service as public private partnership (PPP) helps to scale up the ICTs/ knowledge centres throughout the country. For example, the project AKSHAYA has brought together a state player (Kerala Govt.) and private sector player (TULIP IT services) to create an internet backbone network for the state, which can be used as a platform to launch a number of infrastructure initiatives. Similarly, NABARD , e-governance services in Himachal Pradesh and SBI – rural information KIOSKs in Tamil Nadu are some successful examples of Partnership approach in knowledge management.
Centre for development of advanced computing (CDAC) in AKS Management:
CDAC is a Government of India organisation helps the AKS management in the country with its customised knowledge management products. For example, development of visual solutions by CDAC helps to meet the needs and requirements of digitally impoverished communities which are to be addressed with the application of ICT. The selected ICT solutions are investigated for their possible adaptation, customization and/or localization as the case may be for addressing such requirements of the sectorial areas covered under agriculture; health care and education. The important role played by the CDAC in AKS management is;
To establish and support mechanisms for information dissemination on ICT based developments
To design and deliver specialized training programmes in the use of ICT solutions developed, relevance to the farming system
To investigate the selected ICT solutions with a view to possible adaptation, customization and/or localization as the case may be for addressing such requirements
to pilot test the solutions developed in selected areas and critically gauze the effectiveness and impact of these solutions.
To establish and support mechanisms for information dissemination on ICT based developments
To design and deliver specialized training programmes in the use of ICT solutions developed, relevance to the farming system
Development of open source office productivity tools that suite across platforms which will enable the creation of documents and other content in Indian languages and will thus make relevant content available in local languages.
Some of the knowledge management products for AKS by CDAC are Bharateeyaoo, Matrubhasa, DAAL, ECKO, e-kamps, Vyapar and multilingual Virtual class room.
Agriculture Knowledge Products from ICAR:
ICAR through its sustained efforts involved in the creation of data bases, information and expert systems for the benefits of various stake holders. The summary of the same is given here under.
Information System:
There are more than 60 information system products developed and some of the most important products among them are Plant Variety Information System, Plant Variety Germplasm Registration System, NORV-Notified and Released Varieties of India, INDUS-Indian Information System as per DUS guidelines, National Information System for Pest Management (Bt–Cotton), Phenotypic Characterization of Animal Genetic Resources of India (AGRI-IS), Water bodies information systems for West Bengal, E-Pest: Awareness-cum-surveillance programme for the management of major pests, Digital Herbarium of Medicinal & Aromatic plants, Networking of herbal gardens in India, Fodder Resources and Waste land of Bay Islands, NISM-National Information Sharing Mechanism for the PGR-GPVR (Germplasm and Plant Varieties Registration), National Information System on Long Term Fertilizer Experiments, Project Information & Management System Network for NATP, Personnel Information Management System Network (PERMIS NET) and National Information System on Agricultural Education Network in India (NISAGE NET).
Decision Support Systems/ES:
There are more than 20 decision support systems are available. Most important among them are Wheat Crop Management, Marine Fisheries Management, Advisory System for Potato crop Scheduling, Nutrient Management in Tuber Crops, GIS Based Decision Support System for Aquaculture in Cold Water Region, Rice-Crop Doctor, Expert System for SERICULTURE, Expert System for GROUND NUT CROP, KMART-Decision support system for farmers, researchers, policy makers and development officials, Poultry Expert System (PES) of poultry farming etc.
E-Advisory/E-Learning Resources:
There are more than 20 e-advisory and e-learning resources available with ICAR. The most important among them are; Geo spatial Village Knowledge Management System (GVKMS -Web Based), Knowledge Management for Agricultural Research and Technologies - KMART (Web Based) and e-GRANTH for strengthening of Digital Library and Information Management under NARS. Under Consortium for e-Resources in Agriculture (CeRA) 120 + libraries in NARS and contents from 2917 journals were covered. In addition ICAR also created a data ware house with more than 59 data bases and a web based integrated National Agricultural Resources Information System.
Collection, Documentation and Validation of Indigenous Technical Knowledge (ITK) and Farm Innovations:
A major initiative was undertaken by ICAR in documenting and validating the Indigenous Knowledge Systems practiced by the farmers in the country. Through the country wide initiative a total number of 4880 Indigenous Technical Knowledge (ITK) in 23 thematic areas were collected, validated and published in seven volumes. Further, seven ITK e-Books and a resource Book for training on ITK was also published. Similarly, potential innovative ideas, methods and inventions made by the farmers were also documented and published for cross country reference by various stake holders.
AKS National Projects and Products:
Some of the most important AKS project under NARS and their output is given here under in the
Table 2. Details of important National Projects on AKS and their output
| | |
| --- | --- |
| Project | Major Focus |
| FERTNET | Network for Integrating Nutrient Management |
| VISTARNET | Agricultural Extension Information System Network |
| PPIN | Plant Protection Informatics Network |
| APHNET | Animal Production and Health Informatics Network of 42000 Animal Primary Health Centers |
| FISHNET | Fisheries Informatics Network |
| LISNET | Land Information System Network |
| AFPINET | Agricultural and Food Processing Industries Informatics Network |
| ARINET | Agricultural and Rural Industries Information System Network |
| NDMNET | Natural Disaster Management Knowledge Network |
| Weather NET | Weather Resource System of India |
| AGRISNET | Network of Agricultural Offices for Extension & agribusiness Activities |
| AGMARKNET | Network of Agricultural Produce Wholesale Markets (7000) & Rural Markets (32000) |
| ARISNET | Agricultural Research Information System Network |
| SeedNET | Seed Informatics Network |
| CoopNet | A Network of Agricultural Primary Credit Societies (PACS) and Agricultural Cooperative Marketing Societies (93000) |
| HORTNET | Horticultural Informatics Network |
Issues & way forward
It was planned to have knowledge centre at every village with a target to reach all the 6, 00,000 villages by 2007 during the 60th anniversary of Indian independence. But there is still long way to reach the target. Domestic Software Development and Application need to be strengthened keeping in view of the linguistic plurality, content diversity and local demand. Reaching the unreached is possible only through the integrated ICT system and developing a consortium of content providers for each agro climatic zones.
Participatory Agricultural knowledge system management is the need of the hour. Farmer Participatory Knowledge System (FPKS) could replace the existing beneficiary and patronage approach to knowledge dissemination.
Need for promoting participatory methodology, inclusiveness and replicability of the approach is more important and should be the bottom line in the development of National Action Plan for the every village a knowledge centre movement for Food Security and Rural Prosperity.
Bibliography
ICAR, 2011 e-KVK , Division of Ag. Extension, ICAR, New Delhi
ICAR, 2011. ICAR at a Glance, Publication Division, ICAR, New Delhi
ITC e-choupal: www.e-choupal.com
Jafri,A., Dongre,A., Tripathi,V., Aggrawal,A., Shrivastava,S., 2002 Information communication Technologies
and Governance: The GYANDOOT Experiment in Dhar District of Madhya Pradesh, India, ODI
Working Paper 160, London:ODI
Jhon Paul, 2004 What Works: n-Logue's Rural Connectivity model, December 2004. http:/www.digitaldividend.org/pdf/nlogue.pdf
Mahalakshmi P, Vimala, D.D and M.Krishnan, 2008 (July-December). Development of e_Learning module on Mud Crab Fattening. Indian Journal of extension Education, 44 (3&4): 22-26.
Mahalakshmi, P 2010. Information Kiosk. In: Information and Communication Technology in Agriculture: Computer Networking. (Eds. R.M.Prasad, B.S.Hansra and P.K.Jain). RAE 004, School of Agriculture, Indira Gandhi National Open University, New Delhi, pp 28-47.
Mahalakshmi, P and M. Krishnan. 2009. Development of an asynchronous e-Learning module for aquaculture development in an information and knowledge based society. In: Aquaculture Management. Goswami. C. U and Kumar. D (eds.). Narendra Publishing House, New Delhi, pp 371-381.
Mahalakshmi, P. and M.Krishnan. 2011. Marketing of Shrimp Through e_HUB in West and East Godavari Districts of Andhra Pradesh: An Aquachoupal Model. Fishery Technology, 48 (1): 81-86.
Mahalakshmi, P., Vimala, D.D., M.Krishnan, and T.Ravisankar. 2009. Needs assessment of ICT Users for implementation of aquacultural development projects in coastal areas. Fishery Technology, 46 (1): 73-78.
MSSRF, 2003 Village Information Centres: Harnessing Local Knowledge Via Policy Recommendations on Rural Knowledge Centres for Harnessing Local Knowledge via Interactive Media organised by M S Swaminathan Research Foundation, Chennai during October 8-9, 2003
Venkatasubramanian,V., Sadamate,V.V., and Chandragowda,M.J.,2009 Agricultural Systems :Issues and Strategies for Convergence, IN proceedings of National Seminar on Agricultural Extension, Ministry of Agriculture, Govt. of India, New Delhi: pp :43-49.
Venkatasubramanian,V., Sajeev, M.V., and Singha, A.K., 2011 Concept, Methodology and Approaches for Technology Application and Transfer- A reference book for KVKs, Second Edition, Published by Zonal Project Directorate, Zone III, ICAR, Barapani, Megalaya (www.icarzcu3@gov.in).